BOMA/GLA Operating Benchmark Report (OBR)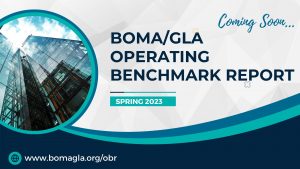 We are pleased to announce the BOMA/GLA Operating Benchmark Report! The report is a comprehensive survey that covers a wide range of operating expenses, such as utilities, maintenance, insurance, and taxes. 
We have contracted with eAutoFeedback, LLC, a third-party vendor, to conduct this electronic survey process, including summarization of the responses received.  Please note that BOMA/GLA will not release the names or addresses of any properties submitted to the Operating Benchmark Survey.  
The report will only break down data based on region and class if sufficient responses are received for that region or class. This is to protect the anonymity of the data. So, we need your help to create a robust report that helps you understand how your building expenses compare to other buildings. Complete the survey today!  
How Do I Participate?  
Before starting this survey, please have your 2022 Income/Expense Statement available for each building that you manage.  
To submit your data, click on the QR Code or scan the code using the camera on your mobile device. If you have multiple properties, you will have an opportunity at the end of each survey to click on an "Add Another Building" button. 
Why Should I Participate?  
By participating in the survey, you can get a clear idea of how your expenses compare to other properties in the same region. Are your expenses in line with other properties in the San Fernando Valley? And how do expenses in the San Fernando Valley compare with the Westside? These are the types of questions this report will answer.   
Additionally, members who participate in the survey will be entered into a raffle to win a free registration to BOMA by the Sea (A $230 value!).  
A copy of the final report is included in your BOMA/GLA membership free of charge! For non-members who contribute their data to the report, you will be able to purchase the report at a discounted rate of $100.  
The final report will provide valuable insights into property operations and contribute to a better understanding of the commercial real estate market across Greater LA. This report will include important data for property owners and their teams as we navigate the uncertainty in the market ahead.  
Please complete the survey by June 8th. If you have any questions, please contact our Government Affairs Manager, Blake Perez.  
BOMA/GLA and eAutoFeedback, LLC assume no legal responsibility for the accuracy of the data collected or presented, and it will be without warranty, either expressed or implied.  In addition, BOMA/GLA nor eAutoFeedback, LLC assumes any responsibility for the outcome of any decisions, contracts, commitments, or obligations made based on this information.   
Note: We realize that management fees are considered an expense; however, BOMA, as a not-for-profit 501(c)(6), is prohibited by our not-for-profit federal tax status from facilitating any dialogue or discussion of what is charged for these services.  Since this would be an antitrust compliance issue, management fee information will not be collected.