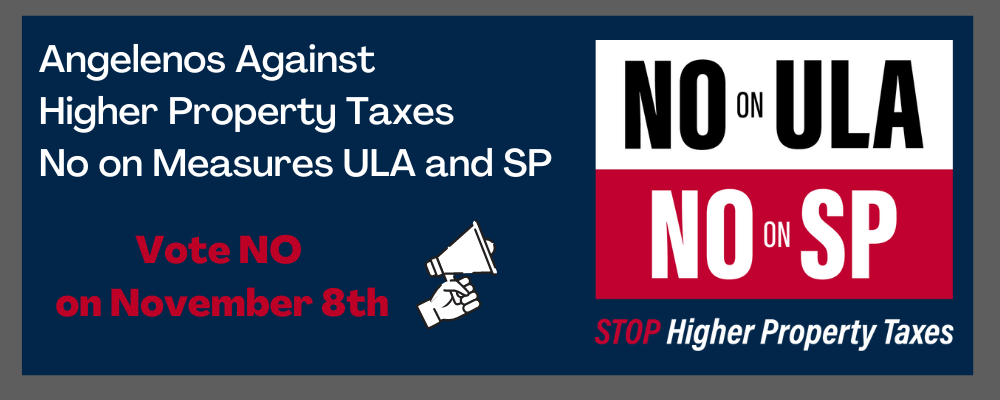 UPDATE:
Polls are open and ballots are in the mail – vote
NO
on Measures ULA and SP today if you live in Los Angeles
On November 8, Angelenos will vote on two property tax increases: Measures ULA and SP. 
Both initiatives will be devastating to the local economy, the cost of living, and to our industry. We urge you to vote NO on Measures ULA and SP and spread the word to your entire network. 
ULA is an $800 million, 34% property tax increase, the largest in LA history.

 

It will increase transfer taxes on most BOMA/GLA members to 5.5% -- that's a twelvefold increase!

 

ULA is a special interest giveaway to a select few "affordable housing" developers in Los Angeles who on average charge over $600,000 a unit while increasing costs for everyday Angelenos.

 
About Measure SP: 
Measure SP would impose an eight cents/square foot parcel tax on all property owners. 

 

Tax revenue would be directed toward parks and other projects.

 

This is being proposed despite Angelenos already paying for new parks through two existing taxes.

 

Los Angeles already has $150 million in unallocated park funds that should be used before Angeleno homeowners are forced to pay another tax hike.

 
Measures ULA and SP are ultimately just another attempt to dismantle Proposition 13 and raise your property taxes as we've seen on recent ballots. 
HERE'S HOW YOU CAN HELP: 
Vote "No" on Measures ULA and SP by November 8. Vote by mail or find your in-person voting center

HERE

.